There is no doubt that one of the attractions of studying in Valencia is its location on the Mediterranean coast. While summer is synonymous with vacations for many students who return to their hometowns, others take the opportunity to enroll in courses or find jobs to fit around their studies at this time, so the city is not completely empty of university students during those months. The Valencian coast also offers places of great beauty that can be enjoyed in summer and through to the autumn . Therefore, in this post we'll show you the best coves in Valencia and beaches filled with charm and tranquility for you to enjoy.
The best coves in Valencia
It should be pointed out that when we say "the best coves in Valencia" we are referring to the entire Valencian community, since there are no bathing areas of this type in the capital and neither in the province.
Therefore, to find the best coves near Valencia, you have to go to places with a more rugged coastline, such as around Cabo de la Nao in Alicante or in the Castellón area. But what all the coves have in common is that they are a stone's throw away from Collegiate AC Marina Real.
Cala d'Aigua Dolça, Dénia
In the surroundings of Dénia, after crossing the border with the province of Alicante, there are some of the best coves in Valencia. Cala d'Aigua Dolça is one of them – with steep access, this beautiful, secluded and rocky landscape offers the most crystal clear waters.
Cala La Granadella, Xàbia
This can also be considered one of the best coves near Valencia, as it is very close to Denia. With even more crystalline waters, it is perfect for scuba diving.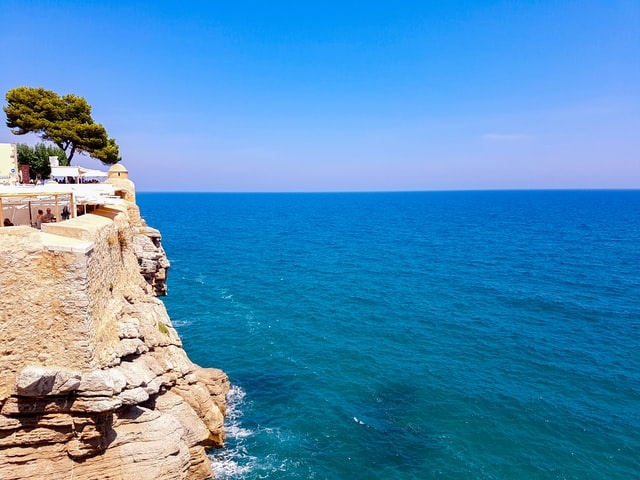 Cala del Tio Ximo, Benidorm
Benidorm not only offers great beaches between apartment skyscrapers, it's also very close to Punta de l'Escaleta. This surprising cove is where you'll often find nudist bathers
Cala Moraig, Benitatxell
Beautiful not only for its blue waters, but also for its arched rock formations. It is another popular place for snorkeling and nudism.
Cala Pebret, Peñíscola
If you head north, you will discover that in the province of Castellón there are also wonderful coves. For example, in the surroundings of Peñíscola, such as Cala Pebret, which is the most accessible on this list.
The most beautiful beaches in Valencia
The best coves in Valencia are a good option for a quiet and natural swim. On the other hand, if you prefer a more extensive beach and more services around it, you have many other options. So, if you already know Malvarrosa, Cabanyal and Patacona in the capital, we suggest you explore these others close by, which are among the most beautiful beaches in Valencia.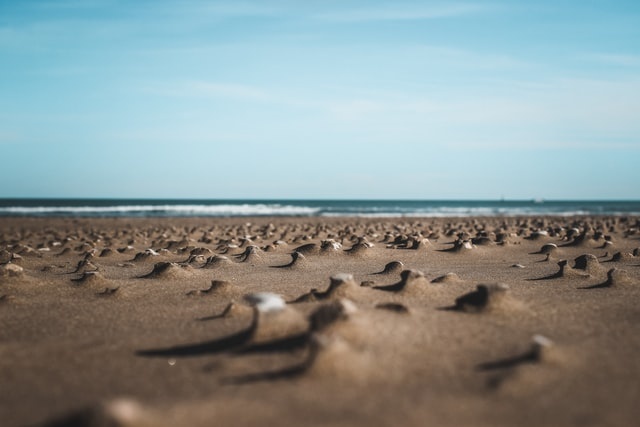 Devesa Beach, El Saler
Located less than 20km from the Valencia capital, its charm lies in the natural landscape of the Albufera Natural Park. It is one of the most beautiful beaches in Valencia, where tranquility reigns and you will never have to worry about overcrowding.
Marenyet de l'Illa Beach, Cullera
Although Cullera is one of the great holiday destinations in Valencia, it also offers quiet corners with small, natural beaches, almost like coves. A great example is the Marenyet de l'Illa beach, which sits very secluded between rocky breakwaters, with hardly any waves, orhe beach of l'Estany which is further south and very similar in its tranquil beauty.
Mareny de Sant Llorenç beach, Sueca
Located in the area of Mareny Blau, this spot also stands out for its tranquility and for having few buildings in its surroundings. Besides being one of the best beaches near Valencia for avoiding the crowds, it is also a good spot to practice kitesurfing.
Whether you prefer quiet beaches or coves near Valencia, what is certain is that you will have plenty to choose from and it will always be a good decision. Once you start exploring, it will be easy to see why the province welcomes thousands of tourists every summer to enjoy its coast!