Exceptional Student Residences in Madrid
We're thrilled to offer a beautiful new range of student accommodation and studios in the heart of Madrid – Spain's vibrant and modern capital city. Madrid weaves contemporary culture and exciting entertainment into a historic cityscape.
Studying in this vibrant city provides a unique experience that you will treasure for your whole life. As well as being part of a large and friendly community, there is a whole world of modern city life waiting to be explored. Situated in the heart of Spain, you are also well connected to the rest of the country.
Madrid has many attractions, so whenever you desire an active break from studies, you can discover its best cultural picks. Go on a free walking tour, see a flamenco show, or discover more than 50 museums featuring modern and classic art, national history and heritage, as well as science and nature, including the famous Museo Del Prado which is one of Spain's top attractions.
Make the most of your college experience by staying at Collegiate's student accommodation. Enjoy an unbeatable location and fantastic facilities, such as the swimming pool, breathtaking roof terrace, fitness lounge and other stunning common areas. Discover the private student rooms at Collegiate Madrid Chamartín, the most exclusive student residence in Madrid.
Madrid Student Residences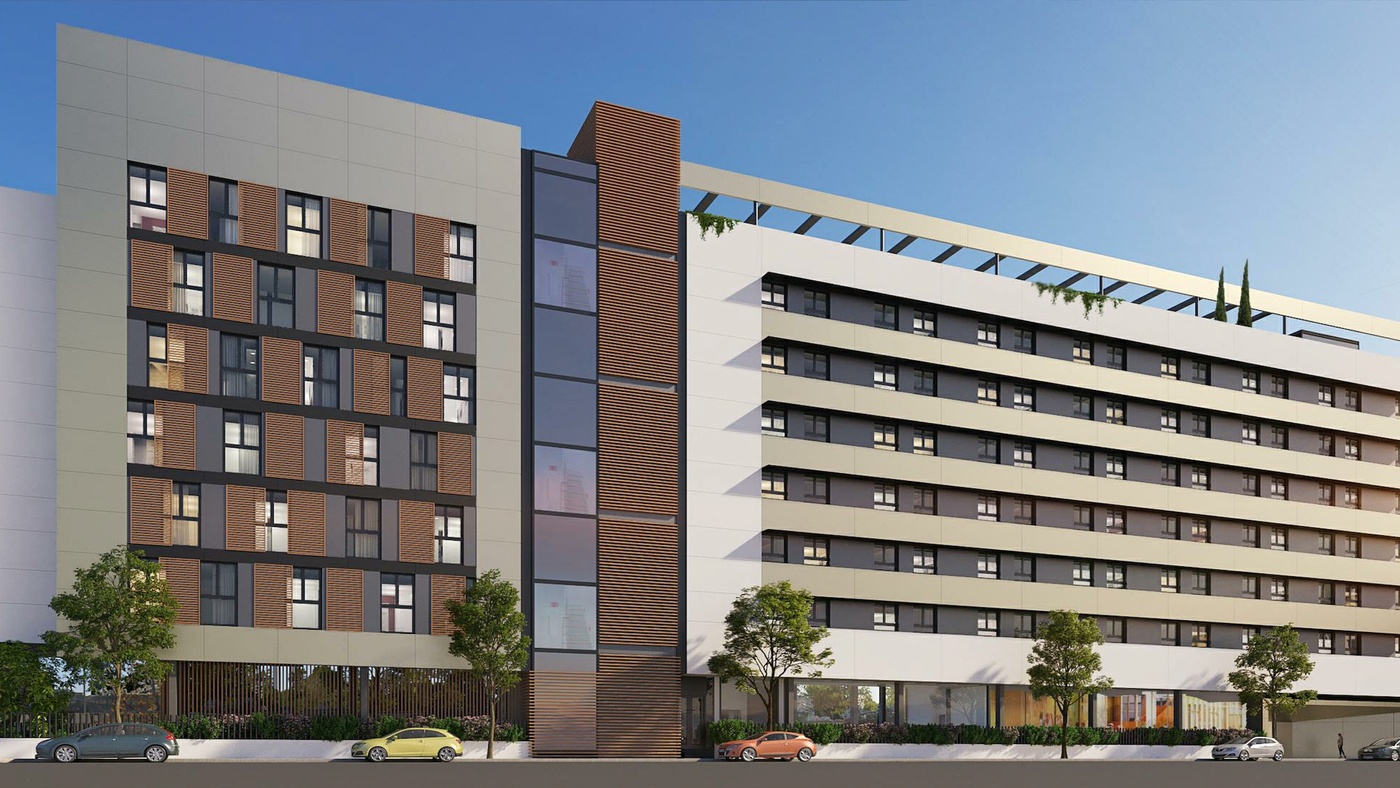 Collegiate Madrid Chamartín
Offering unrivalled student accommodation, Collegiate Madrid Chamartín has a friendly and contemporary vibe that's perfectly located for your studies.
Boasting exceptional features such as its very own roof terrace with an incredible view and a private pool, to a themed private dining room to entertain friends. Welcome to the ultimate student living experience! You will also find everything you need all safely under one roof. From beautiful big bedrooms and mega-fast 1 GB WiFi, to wealth of social and study spaces and exclusive residents events. From 24/7 concierge to a fully loaded gym at no extra charge.
Collegiate Madrid Chamartín is located north of the city centre and just a short walk away from the Chamartín transport hub, so you're in easy reach of everything from universities to city hotspots. Collegiate Madrid Chamartín is a unique student experience, it's not just somewhere to live, it's a lifestyle.
Madrid is a hub for European university education and home to some of the world's most prestigious institutions. If that wasn't enough, it's also home to the world's most famous and successful football clubs: Real Madrid. Los Blancos have won a record 35 Spanish league titles and lifted the Champions League an astonishing 14 times, more than any other side.
Student apartments in Madrid
When choosing your student accommodation in Madrid, make sure that it's fully equipped with the features you need to make your experience as comfortable as possible. Collegiate Madrid Chamartìn is designed to ensure that your student experience is the best it can be and offers both an ideal study environment, as well as perfect places to relax and socialise.
So, if you're looking for the best accommodation in Madrid look no further than our stylish student studio apartments. Here's just some of what's included with our Collegiate Madrid Chamartìn:
Private full equipped kitchen.
En-suite private bathroom.
Large bed with under-bed storage.
Large desk space with comfortable chair for studying at your residence in Madrid.
Plenty of storage and wardrobe space in a design-led flat.
Smart TV in Madrid student accommodation.
Access to study room, fitness suite, private dinning room, roof terrace, swimming pool and much more.
Award-winning Student Accommodation